Wall Street does a great job of convincing people that risking your money in the stock market is the best way to grow wealth.
Ever heard this piece of Wall Street propaganda? "When you are young you can afford to take losses, because you have time to recover?" They claim that losses when you are young are okay; they don't hurt as bad as they do when you are older.
Would it surprise you to learn that obviously self-serving and biased advice isn't exactly true? Wall Street's influence is so powerful that if they repeat the same propaganda over and over again, people eventually believe it as fact.
Losses any time are not good, but they can be especially costly the younger you are because of the opportunity cost. You lose the ability to have that money working for you for the rest of your life. Ouch!
Take a look at the TRUE cost of a $50,000 stock market loss. (HINT: It's not just $50,000)
Let's say you lose $50,000 in a market downturn when you are 45 years old. Let's assume you could have averaged 7 percent over the next 20 years (which you can in our strategies).
How much did you really lose by the time you go to retire at of 65?
That 50k loss really cost you $193,484.
But that's not where it ends. Because you still have another 20 or so years to live in retirement.
Let's assume you live to age 85.
That 50k loss just cost you $748,722 dollars.
Your loss didn't just cost you $50,000. It really cost you ¾ of a million dollars!
Can you see why Warren Buffet rule #1 is DON'T LOSE MONEY!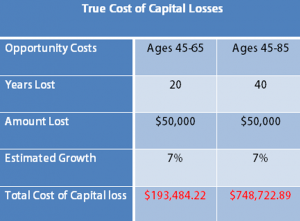 Are you infected?
Beware Of Wall Street's Mind Virus: "Don't sell! Be patient and your money will come back."
The propaganda machine promotes the idea that after market crashes if you just hold on you will eventually 'recover' your losses…
…that the money you lost will magically show back up in your account.
Surprise: Another Wall Street lie.
When you have a loss, take our $50,000 in this example, it's gone. And it's not coming back.
Wall Street doesn't put a deposit back into your account. If your account does recover to the amount before the loss, it happens because the principal left in your account grew enough to replace the amount lost. Recovering significant losses can take anywhere from 2 to 6 years on average.
Often people celebrate getting back to even like they won the lottery. Talking heads on TV pat each other on the back and celebrate the 'new market high'. If your money was really growing you'd be experiencing new market highs virtually every month and year.
Getting back to even is better than continued losses, but the real question is how much more money would you have today if you didn't lose the initial principal in the first place!?
(Keep in mind, people often continue contributing to their accounts during the 'recovery' period, they mistakenly think they have recovered their losses, when they themselves have contributed substantially to the recovery.)
Click the button below to get a free, no obligation blueprint where you'll discover a unique strategy that gives you the potential for double digit gains and never lose in another stock market crash.
Request A Personalized Wealth Building Blueprint Here