It's finally here!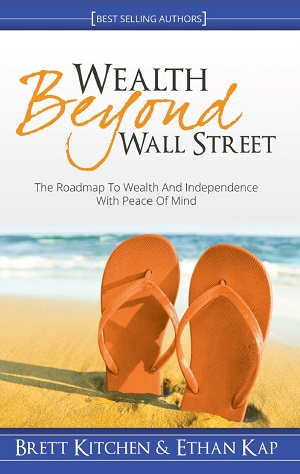 After a long wait the Wealth Beyond Wall Street book is finally available.
This book will be a powerful tool in educating your prospects about the power of 'safer money' products such as cash value life insurance and annuities.
The book is not product specific with regard to Whole life, IUL or Annuities. It was designed to 'develop pain' and provide YOU – a Wealth Beyond Wall Street Advisor – as the solution. We want you to be the 'doctor' who prescribes the right solution to your prospects specific problems.
It's designed to establish your expertise and positioning PLUS help you generate qualified, exclusive appointments.
Orders of 10 books or more will also receive 2 important bonuses.You will get a short and powerful 1 page sales letter you can include with the book AND the training "How to use books to generate appointments".
Since not all people actually read the books, this will help you turn as many prospects as possible into appointments, even if they don't read the book!
Here's what you'll get:
The exact script to use when giving a book away to make sure they are committed to reading it.
1 secret to avoid being a 'book giving machine' without getting appointments in return.
How to turn lukewarm prospects into hot buyers using the Wealth Beyond Wall Street system.
An actual email, including subject line and call to action, to get your prospects to come to you and request a copy!
How to follow up with book recipients (without turning into a follow up pest!)
5 Conversation starters that turn an average acquaintance into a sincere and interested prospect.
WARNING: 3 mistakes most people make when giving away books, that costs them money, and generates nothing in return.
Plus get the done for you sales letter so even if they don't read the book…they'll still call you for an appointment!
For a limited time we can sell the books to our members using 'author copies'. Please be aware that once the books come out in bookstores we may lose some authority to set our prices, so these prices are subject to change. These are paperback prices.
Here's the breakdown:
Quantities: 1-9: $8.95 ea.
Quantities: 10-24: $7.95 ea. (Includes Bonuses)
Quantities: 25-49: $6.95 ea. (Includes Bonuses)
Quantities: 50-74: $6.50 ea. (Includes Bonuses)
Quantities: 75-99: $6.00 ea. (Includes Bonuses)
Quantities: Over 100: $5.50 ea. (Includes Bonuses)

NOTICE: Your shipping cost will be shown on the page AFTER you enter your credit card information
(and you can change your order before it is final.)