Podcast: Play in new window | Download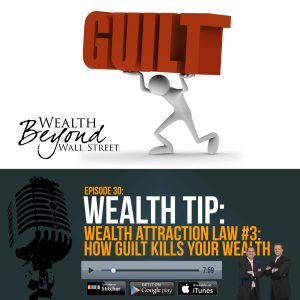 Can how you think about money affect your wealth? Today our hosts Brett Kitchen and Ethan Kap sit down to talk about how guilt can kill your wealth. They talk about the importance of understanding your value, and going on to provide more value for more wealth. They also talk about the importance of not imposing your view of wealth on others and how money is a tool, and is neither good nor bad.
Tune in to Wealth Beyond Wall Street every week to learn more about creating passive wealth, enjoying your work, and finding financial freedom. Also, don't be scared to tap into Brett and Ethan's wealth of financial experience and send them your questions here.
Show Notes:
[00:00] Intro
[00:40] The Next Wealth Tip: Not Having Guilt About Money
[02:49] Providing More Value for More Wealth
[04:04] Imposing Your Views of Wealth on Others
[07:39] Money Is A Tool
[08:07] Outro
Click To Tweet
It starts with our thoughts.
Click To Tweet