Podcast: Play in new window | Download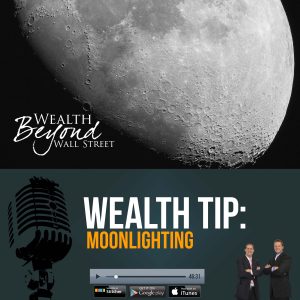 Have you ever wondered how you can find ways to save more money? For instance, you could focus on budgeting, living within your means, and finding ways to cut back – all of which is important. However, the amount of money you can save by just doing those things is limited by your income – so why not increase your income as well? Join us today as our hosts Brett Kitchen and Ethan Kap talk about one of the simplest ways to increase your income and your savings account – moonlighting.
Tune in to Wealth Beyond Wall Street every week to learn more about creating passive wealth, enjoying your work, and finding financial freedom. Also, don't be scared to tap into Brett and Ethan's wealth of financial experience and send them your questions here.
Show Notes:
0:00 Intro
0:47 How Can You Save More Money?
0:56 Focusing on Budgeting
2:00 Increasing Income
3:23 Moonlighting for Money
6:32 Outro
It's not what you make it's what you keep.
Click To Tweet
You can keep a lot more if you make a lot more.
Click To Tweet
You can only save so much.
Click To Tweet