Podcast: Play in new window | Download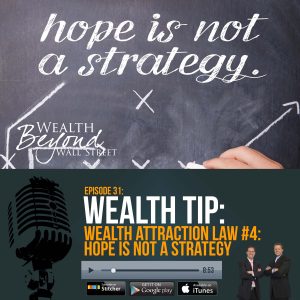 Do you think accurately about money? If you're like most people, you might not. Today our hosts, Brett Kitchen and Ethan Kap, talk about why people refuse to live in the "cold hard world of reality" and choose instead to be sustained by hope and fantasies, and how this negatively impacts their ability to change their lives in the real world.
Tune in to Wealth Beyond Wall Street every week to learn more about creating passive wealth, enjoying your work, and finding financial freedom. Also, don't be scared to tap into Brett and Ethan's wealth of financial experience and send them your questions here.
Show Notes:
[00:00] Intro
[00:40] How You Can Have Accurate Thinking About Money
[01:07] Why Do People Refuse to Live in the "Cold World of Reality"?
[02:34] The Importance of Having an Organized Plan & Action
[03:07] Taking a Look at a Case Study in the Sports World of Positive Thinking & Action
[04:47] Living in a Virtual World Instead of the Real World
[06:10] What Actually Attracts Money into Your Life
[06:40] How An Entitlement Mentality Causes People to Lose Money
[07:29] Money Goes to Where It Will Increase the Fastest
[07:57] Examining Your Beliefs About Money
[08:46] You Can't Help Someone Without the Means to Do It
[09:00] Outro
Hope is great, as long as you back it up with an organized plan.
Click To Tweet
Click To Tweet