Podcast: Play in new window | Download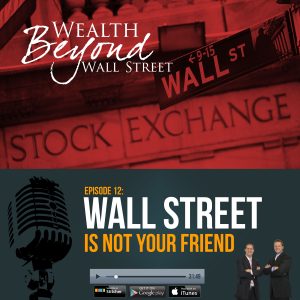 Welcome to the twelfth episode of the Wealth Beyond Wall Street Episode! Today, our hosts, Brett Kitchen and Ethan Kap, talk about the pitfalls of Wall Street. They talk about the power & purpose of wall street, who it makes money for, and why. They talk about the reasons why you shouldn't give your money to Wall Street and the importance of living in reality.
Tune in to Wealth Beyond Wall Street every week to learn more about creating passive wealth, enjoying your work, and finding financial freedom. Also, don't be scared to tap into Brett and Ethan's wealth of financial experience and send them your questions here.
Show Notes:
0:00 Intro
1:19 Why I'm Disgusted by Wall Street
8:07 How Wall Street Encourages Us To Ignore Reality
12:39 What The Reality Is
16:21 Why There's No Such Thing As A Mutual Fund Millionaire
17:26 What Are some of the Solutions?
23:50 What is True Wealth?
31:57 Outro
The strategy that will get you to the lifestyle you want is a combination of producing income and…
Click To Tweet
Play games that you actually have a chance of winning
Click To Tweet