Podcast: Play in new window | Download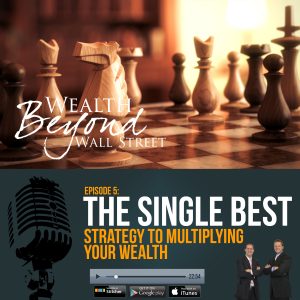 While it's nice to earn a fifteen, twenty, thirty, even sixty percent return on your money, how do you learn to multiply your wealth, and get a one hundred, one thousand, even one hundred thousand percent return on your wealth and truly multiply it? Today our hosts Ethan Kap and Brett Kitchen talk about the single best strategy for multiplying your wealth – starting a business. They talk about how they learned to run successful businesses that multiplied their wealth and how a basic understanding of human nature allows us to run our businesses effectively to generate wealth. Finally, they talk about figuring out what you want – is starting a business right for your right now?
Tune in to Wealth Beyond Wall Street every week to learn more about creating passive wealth, enjoying your work, and finding financial freedom. Also, don't be scared to tap into Brett and Ethan's wealth of financial experience and send them your questions here.
Show Notes:
00:00 Intro
00:49 Natural Entrepreneurs & Starting a Business
03:23 The Secret to Multiplying Your Wealth: Start a Business
04:44 How We Learned to Multiply Our Wealth
09:18 Understanding Human Nature
15:29 The Levels of Business
21:20 Finding Out What You Want
23:09 Outro
The only way that I know how to multiply your wealth is to start a business.
Click To Tweet