Podcast: Play in new window | Download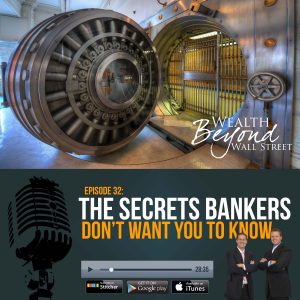 Who controls your cash flow? Is it you, or the bank? If you're like most people, it's probably the bank that you go to to finance your car, your home, etc. And the bank makes a lot of money when you let them do that! What if there was a way that you could finance yourself, and make keep the money that the bank makes off of you? Today our hosts, Brett Kitchen and Ethan Kap, sit down to talk about the secret bankers don't want you to know: how to finance yourself to wealth.
Tune in to Wealth Beyond Wall Street every week to learn more about creating passive wealth, enjoying your work, and finding financial freedom. Also, don't be scared to tap into Brett and Ethan's wealth of financial experience and send them your questions here.
Show Notes:
[00:00] Intro
[00:44] How to Finance Yourself to Wealth
[03:16] Learning to Look Beyond the Status Quo
[05:02] Understanding How People Spend & Borrow Money
[07:15] Exercising More Control to Privatize Your Wealth
[08:49] How To Take On The Role of a Banker
[12:39] Learning About the Opportunity Cost of Money
[13:29] Understanding EDA – What is the Cost of Capital?
[16:48] An Example of Financing Yourself to Wealth
[20:05] The Concept of Cashflow
[23:21] The Takeaway: Managing Your Debt vs. Rate of Return
[28:55] Outro
The status quo just isn't working out for people.
Click To Tweet
The alternate use of money must always be considered as a cost.
Click To Tweet
The question is: who controls your cash flow?
Click To Tweet