Podcast: Play in new window | Download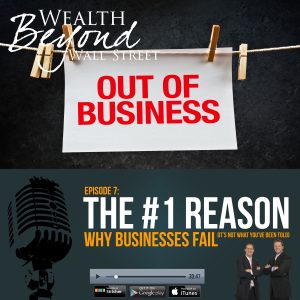 Join Ethan Kap and Brett Kitchen today as they talk about the #1 reason why businesses fail (it's not what you've been told). The number one reason why businesses fail isn't complicated, isn't lack of capital or research or anything else, it's that customers didn't buy your product – or that they didn't buy enough of it. Brett and Ethan talk today about how to avoid having that happen to you – by learning the fundamentals of marketing and follow through.
Tune in to Wealth Beyond Wall Street every week to learn more about creating passive wealth, enjoying your work, and finding financial freedom. Also, don't be scared to tap into Brett and Ethan's wealth of financial experience and send them your questions here.
Show Notes:
00:00 Intro
00:27 Multiplying Your Wealth Through Entrepreneurship
04:18 What Are You Doing to Add to Your Income?
13:12 The Number 1 Reason Businesses Fail
15:29 A Case Study
17:14 The Fundamental Marketing Flaws
26:36 Follow Through
30:56 Outro
The number 1 reason businesses fail is because customers aren't buying.
Click To Tweet
If you want to multiply your wealth, a business is the way to do it.
Click To Tweet
This is really what we're passionate about: how to multiply your wealth through entrepreneurship.
Click To Tweet