Podcast: Play in new window | Download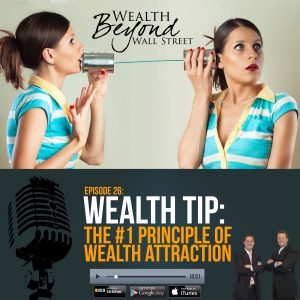 What is the secret to attracting wealth into your life? Would you believe that it starts as simple as changing your thoughts? Today our hosts, Brett Kitchen and Ethan Kap, sit down to talk about the number one principle of wealth attraction. They talk about how our thought patterns, and the thought patterns of those around us, influence who we are and who we become.
Tune in to Wealth Beyond Wall Street every week to learn more about creating passive wealth, enjoying your work, and finding financial freedom. Also, don't be scared to tap into Brett and Ethan's wealth of financial experience and send them your questions here.

Show Notes:
[00:00] Intro
[01:36] Secret of Attracting Wealth Into Our Life
[03:01] Changing Your Thoughts to Attract Wealth
[04:14] Understanding the Human Psyche
[06:46] Bring Positive Self Talk Into Your Everyday Conversations
[08:30] Believe in Yourself
[11:11] Outro
The self talk we are putting into our heads needs to be positive.
Click To Tweet
If we don't believe that we can do it then we never will.
Click To Tweet