Podcast: Play in new window | Download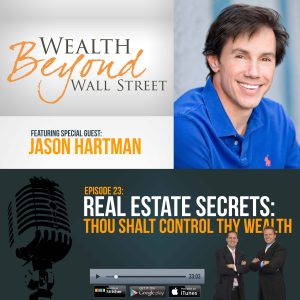 Today on the Wealth Standard Radio we sit down with special guest Jason Hartman to talk about investing in real estate! After all, while there are very few if any real estate millionaires, many many people have made their fortunes by investing in land. The talk about inflation, land to improvement ratio, real estate as a sum of commodities, and how geography is becoming less meaningful.
Tune in to Wealth Beyond Wall Street every week to learn more about creating passive wealth, enjoying your work, and finding financial freedom. Also, don't be scared to tap into Brett and Ethan's wealth of financial experience and send them your questions here.
Links from this Episode:
Show Notes:
[00:00] Intro
[00:49] Introducing Jason Hartman
[03:15] Being the Master of Your Fate
[10:43] There's No Such Thing as a Mutual Fund Millionaire
[15:17] Gold as a Measure of Inflation
[18:57] Land to Improvement Ratio
[20:41] Real Estate as Buying a Commodity
[23:25] How Geography is Becoming Less Meaningful
[27:01] Inflation Induced Debt Destruction
[30:21] How Do You Manage Properties All Over the Country?
[33:59] Outro
There's no such thing as a mutual fund millionaire.
Click To Tweet
Real estate investment is one of the oldest and most profitable investments
Click To Tweet