Podcast: Play in new window | Download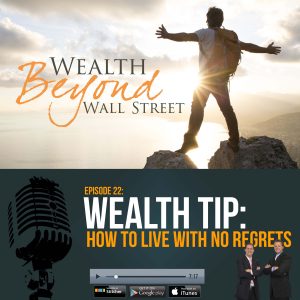 Have you ever wondered how to live with no regrets? Well, today's episode might not have all the answers to that question but it does have some. Today our hosts Brett Kitchen and Ethan Cap sit down to talk about how to be content with the interest you're earning on your money, without slobbering over what you might have made on wall street…(never mind what you might have lost).
Tune in to Wealth Beyond Wall Street every week to learn more about creating passive wealth, enjoying your work, and finding financial freedom. Also, don't be scared to tap into Brett and Ethan's wealth of financial experience and send them your questions here.
Show Notes:
[0:00] Intro
[0:32] The Silliness of Speculating on Could-Have Market Riches
[2:27] How to Live With No Regret
[6:19] Meeting Your Needs
[7:29] Outro
You don't have to be greedy, and you don't have to be jealous of the guy who did make 25% last…
Click To Tweet
The point is, should he be regretting his decision?
Click To Tweet