Podcast: Play in new window | Download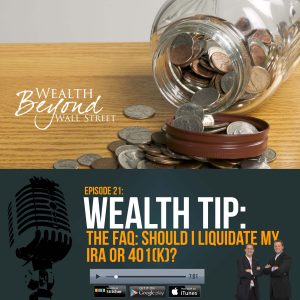 As we look at the crazy world around us – with terrorist attacks happening in France and all over the world, Brexit throwing the market into temporary disarray, and international politics affecting our money more than ever before, many people ask themselves, how long is it till the next crash? Historically, there is an economic downturn every seven to eight years, so the honest answer is, not long. Today our hosts Brett Kitchen and Ethan Kap talk about options for those who are thinking about liquidating their IRA or 401(k), and no longer wish to gamble their money on today's stock market.
Tune in to Wealth Beyond Wall Street every week to learn more about creating passive wealth, enjoying your work, and finding financial freedom. Also, don't be scared to tap into Brett and Ethan's wealth of financial experience and send them your questions here.
Show Notes:
[00:00] Intro
[00:35] The Craziness Happening in the World Around Us
[02:22] Should You Pay the Fees to Close out Your IRA and 401(k)s?
[07:09] Outro
Historically there is an economic downturn every seven to eight years.
Click To Tweet
You have to ask yourself, when is this next crash going to happen and am I prepared for it?
Click To Tweet