Podcast: Play in new window | Download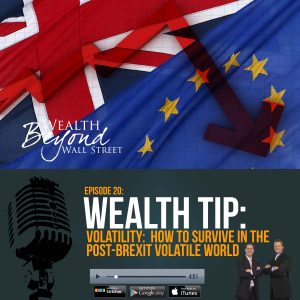 Sit down today with Brett Kitchen and Ethan Kap, for a short, five minute Quick Tip! We live in an era of increased volatility – where the future has become harder and harder to predict and events on the other side of the globe can affect our money here at home. Brett and Ethan use the Brexit, the exit of Britain from the EU, to demonstrate how worldwide events can affect your money, and the importance of finding a safe place from which to take advantage of that volatility.
Tune in to Wealth Beyond Wall Street every week to learn more about creating passive wealth, enjoying your work, and finding financial freedom. Also, don't be scared to tap into Brett and Ethan's wealth of financial experience and send them your questions here.
Show Notes:
[00:00] Intro
[00:32] What is Brexit?
[02:04] How Might Brexit Affect Your Money?
[03:27] Do You Want Your Life Savings Gambled on World Events?
[04:56] Outro
We live in an era of increased volatility.
Click To Tweet
What is your strategy to protect yourself from losses when crazy things happen?
Click To Tweet