Podcast: Play in new window | Download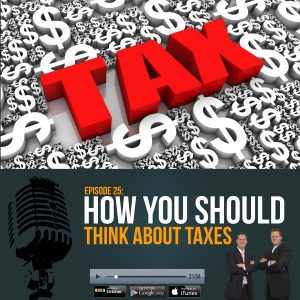 How should you think about taxes? If you've gone to any elementary school, you've probably heard the phrase "no taxation without representation". How much does this phrase still apply to our modern life? Maybe more than you think. Today our hosts Brett Kitchen and Ethan Kap sit down to talk about the effect of distance on responsibility, the ethicality of federal taxes, our obligation with our taxes, and finally, how we all should be thinking about paying our taxes and voting on tax increases.
Tune in to Wealth Beyond Wall Street every week to learn more about creating passive wealth, enjoying your work, and finding financial freedom. Also, don't be scared to tap into Brett and Ethan's wealth of financial experience and send them your questions here.
Show Notes:
[00:00] Intro
[00:39] Taxation Without Representation
[03:41] The Effect of Distance on Responsibility
[05:45] The Ethicality of Federal Taxes
[06:15] What's the Right Way to Think About Taxes?
[17:24] Why Is It Okay to Waste Money?
[19:16] Our Obligation With Our Taxes
[22:01] Outro
Vote against every tax increase, every time, no matter what.
Click To Tweet
You take the money from Oklahoma and give it to Texas, it's probably not going to be spent…
Click To Tweet