Podcast: Play in new window | Download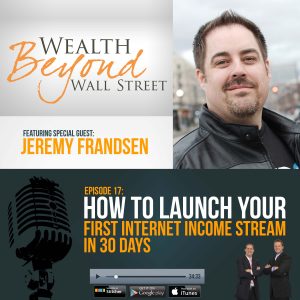 Have you ever dreamed of having an income stream that allows you to completely design your own lifestyle? Of being able to to jump to the top instead of laboriously trying to work your way up the ladder? Today our hosts Brett Kitchen and Ethan Kap sit down with Jeremy Frandsen, host of the #1 podcast internet business and marketing and an expert on creating internet income stream within thirty days. Find out how you can not only start your own business, but set your own hours and find a lifestyle that works for you!
Tune in to Wealth Beyond Wall Street every week to learn more about creating passive wealth, enjoying your work, and finding financial freedom. Also, don't be scared to tap into Brett and Ethan's wealth of financial experience and send them your questions here.
Show Notes:
[00:00] Intro
[00:27] Introducing Jeremy Frandsen
[03:42] Jeremy Frandsen's Business History
[08:47] Leapfrog Theory
[14:55] The Benefits of Choosing Your Own Lifestyle
[17:36] Myths About Starting a Business
[27:28] Resources for Online Business Starters
[29:04] How Did Your Students Perform?
[46:45] Outro
It can create a lifestyle that you could only dream of.
Click To Tweet
I read the first chapter of rich dad poor dad and it basically made me unemployable.
Click To Tweet
Click To Tweet