Podcast: Play in new window | Download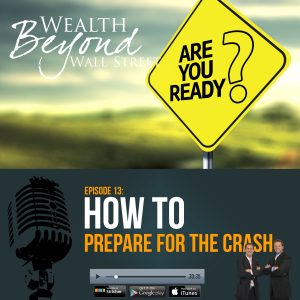 Are you okay with another market crash? Our hosts Brett Kitchen and Ethan Kap are. Today on the Wealth Beyond Wall Street podcast, they sit down to talk about why another market crash is inevitable, and  why that's okay. They talk about how to protect yourself during a crash and during hard times in general. They also talk about the importance of understanding human psychology in order to capitalize on both the good and the bad.
Tune in to Wealth Beyond Wall Street every week to learn more about creating passive wealth, enjoying your work, and finding financial freedom. Also, don't be scared to tap into Brett and Ethan's wealth of financial experience and send them your questions here.
Show Notes:
00:00 Intro
00:34 Why We're Okay With a Market Crash
01:29 Should We Have Hope?
05:27 Analyzing the Tech Bubble Crash
09:00 Learning to Accept the Cycle of Boom and Bust
14:40  What Are Some of the Signals?
15:50 How Can We Prepare for a Crash?
24:06 Giving Back and Paying a Tithe
25:32 Where to Store Your Money to Protect Yourself from a Crash
30:55 Outro
A market crash is only doom and gloom if you're not prepared.
Click To Tweet
A lot of people today are afraid, and they don't have to be.
Click To Tweet
Every major economic shock has been preceded by an asset bubble.
Click To Tweet
If you understand human psychology you can control the world.
Click To Tweet