Podcast: Play in new window | Download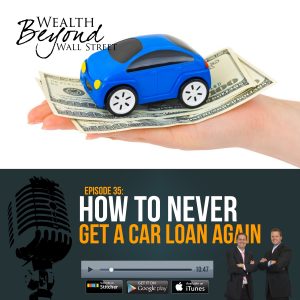 In Part 3 of the Financing Yourself to Wealth series Brett Kitchen and Ethan Kap share case studies and details on how to get started with financing yourself to purchase vehicles, real estate and other family expenses. They explain the lost opportunities that people face when they resort to cash buying or traditional financing.
Tune in to Wealth Beyond Wall Street every week to learn more about creating passive wealth, enjoying your work, and finding financial freedom. Also, don't be scared to tap into Brett and Ethan's wealth of financial experience and send them your questions here.
Links Mentioned in This Episode:
Free book Wealth Beyond Wall Street
Go to Wealth Beyond Wall Street and request the Wealth Blueprint
Show Notes:
00:00 Introduction
00:27 Part 3: Case Studies on Financing Yourself to Wealth
01:02 Financing a car case study
03:40 How you are losing your wealth by transferring it to another institution
04:29 The lost opportunities of paying with cash
06:50 How you won't lose depreciation on a car if you finance yourself
09:55 When you borrow money it stays in your plan as if it's never been touched
12:20 Should you borrow from yourself vs getting a low cost loan?
13:53 Why financing yourself to wealth is great for real estate investors
15:05 How you can grow your wealth without spending or earning more per month
18:19 Young married couple case study
21:30 How to get started and how much you need to get started
Transfer your wealth to yourself instead of someone else
Click To Tweet
Why financing yourself to wealth is great for real estate investors
Click To Tweet
How you can grow your wealth without spending or earning more per month
Click To Tweet