Podcast: Play in new window | Download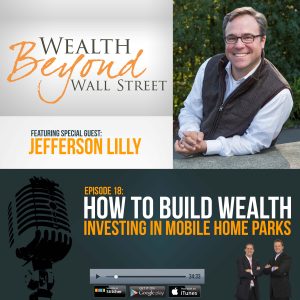 Do mobile home parks sound like an unattractive option to you when it comes to investing in real estate? Today our hosts, Brett Kitchen and Ethan Kap, sit down to talk about building wealth investing in mobile home parks with acclaimed investor and fellow podcast host Jefferson Lilly. Jefferson explains the basics of mobile home park investing, its advantages over traditional multi-family real estate, and how the interested beginner can get started.
Tune in to Wealth Beyond Wall Street every week to learn more about creating passive wealth, enjoying your work, and finding financial freedom. Also, don't be scared to tap into Brett and Ethan's wealth of financial experience and send them your questions here.
Show Notes:
[00:00] Intro
[00:21] Introducing Jefferson Lilly
[02:50] Mobile Home Park Investing with Jefferson Lilly
[07:03] Why Invest in Something as Unattractive as Mobile Home Parks?
[19:28] What is the Number One Reason Why People Fail at Doing This?
[20:59] Can Someone Use Money in a Qualified Account?
[27:30] How Does This Asset Class Affect Your Lifestyle?
[32:21] Tips for Beginners
parksstreetpartners.net

Tune in to Jefferson Lilly's

podcast

Join his LinkedIn group: Mobile Home Park Investors

Read

Deals on Wheels

by Lonnie Scruggs
[34:38] Outro
Why invest in something as unattractive as mobile home parks?
Click To Tweet
We depreciate every bit as much of our purchase price as traditional multi-family - in half the…
Click To Tweet
You shouldn't have any trouble earing 20% on your money.
Click To Tweet