Podcast: Play in new window | Download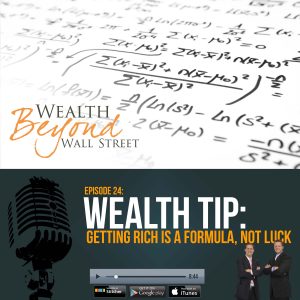 Have you ever wondered how the ultra rich seem to continue to make and grow their money no matter what is happening in the economy? Today our host, Ethan Kap, sits down to talk about how to attract money using the strategies of the ultra rich. The first thing that Ethan realized as he was studying the rich, was that for the vast majority of the ultra rich, success was about a formula, not about luck.
Tune in to Wealth Beyond Wall Street every week to learn more about creating passive wealth, enjoying your work, and finding financial freedom. Also, don't be scared to tap into Brett and Ethan's wealth of financial experience and send them your questions here.
Links from this Episode:
Show Notes:
[00:00] Intro
[00:27] Wealth Attraction Secrets from the Ultra Rich
[01:05] Spending Time with the Ultra Rich
[01:45] Wealth Attraction is not About Luck
[02:42] Thinking About Money the Right Way
[05:37] Realizing Money isn't Bad
[05:49] Focusing on What You Want Money For
[06:51] Understanding Luck
[09:04] Outro
Tell yourself, my choices determine my wealth.
Click To Tweet
Anyone who wants to make the effort to work on their luck can.
Click To Tweet