Podcast: Play in new window | Download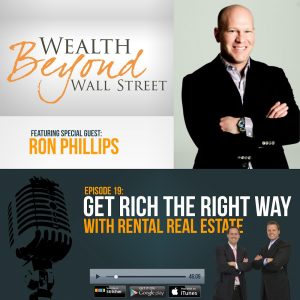 Have you ever wanted to get into real estate, but don't know where to start? Or maybe you've already given it a shot, but have been burned in the past? Today our hosts Brett Kitchen and Ethan Kap sit down with successful real estate investor Ron Phillips to discover what rules and strategies can guarantee that smart investor cash flow from carefully chosen properties. Learn how you, too, can establish a cash flow from real estate that allows you to take control of your life and your time.
Tune in to Wealth Beyond Wall Street every week to learn more about creating passive wealth, enjoying your work, and finding financial freedom. Also, don't be scared to tap into Brett and Ethan's wealth of financial experience and send them your questions here.
Show Notes:
[00:00] Intro
[00:26] Introducing Ron Phillips
[04:07] The Connection Between Buying Assets and Cash Flow
[06:44] How To Get Into Real Estate the Right Way
[09:57] Where Can You Go to Get Your Numbers Right in Real Estate?
[18:13] The Importance of Following the Rules
[22:33] Do You Need to Invest Where You Live?
[28:31] The Importance of Having Freedom
[29:08] What Resources Are There for Those Interested in Management Companies?
[33:59] How Much Capital is Necessary to Invest in Real Estate
[43:02] Contacting
[46:21] Outro
I knew that buying assets that produced cash flow would make me free.
Click To Tweet
It doesn't hurt your properties feelings when it goes down in value.
Click To Tweet