Podcast: Play in new window | Download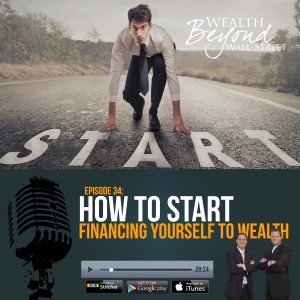 This is Part 2 of the Banking Secrets. In this episode Brett Kitchen and Ethan Kap sit down and talk about the wealth strategy of using an IUL to create your own financial wealth system that is protected from market crashes and has tax free access. This is a action packed conversation that will help you to think more like a banker and wealth strategist.
Tune in to Wealth Beyond Wall Street every week to learn more about creating passive wealth, enjoying your work, and finding financial freedom. Also, don't be scared to tap into Brett and Ethan's wealth of financial experience and send them your questions here.
Links Mentioned in This Episode:
Free book Wealth Beyond Wall Street
Show Notes:
00:00 Introduction
00:27 Listen to Part 1 of this series The Secret Bankers Don't Want You To Know – Episode 032
first
01:00 Most advisors don't have the knowledge or understand the impact it will have on your wealth
01:22 "Wall Street is the only place that people ride in a Rolls Royce to get advice from those who take the subway" – Warren Buffett
01:57 Always question the status quo
03:07 Save your capital as a financial tool to build wealth
04:18 Most people don't value their own money more than the bank's money
05:34 How to create your own IUL financial wealth system
06:29 This method protects you from any downside crashes and tax free access
09:40 The IUL is backed by an insurance contract
10:30 What you want to look for when setting up your IUL
11:20 You can put in as much as you want
12:16 You borrow against the policy's cash value
13:18 Where do the loans come from?
14:37 Anybody that provides for their family should have death benefit protection
15:42 What can we do today to benefit future generations?
18:03 How the IUL works
19:12 Act as if you are a banker
20:18 Life insurance loans are structured similar to home equity lines of credit
Most people don't value their own money more than the bank's money
Click To Tweet
Most advisors don't have the knowledge or understand the impact it will have on your wealth
Click To Tweet
How to create your own IUL financial wealth system
Click To Tweet