Podcast: Play in new window | Download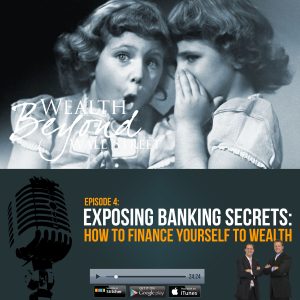 What is the single best strategy for multiplying your wealth? Co-hosts Brett Kitchen and Ethan Kap talk about banking, their favorite strategy for multiplying wealth. They talk about the importance of using and leveraging money to the wealthy to create more money. How can you act like a bank, instead of actually starting a bank, to multiply your money the same way banks multiplies theirs? Tune in to this episode of Wealth Beyond Wall Street to find out!
Tune in to Wealth Beyond Wall Street every week to learn more about creating passive wealth, enjoying your work, and finding financial freedom. Also, don't be scared to tap into Brett and Ethan's wealth of financial experience and send them your questions here.
Show Notes:
00:00 Intro
00:27 How We Learned This Strategy for Multiplying Your Wealth
05:10 Banking Strategies and Wealth
11:45 How Can I Act Like a Bank?
17:16 The Importance of Education
20:26 Creating a Safety Net
21:45 The Laws of Banking & Arbitrage
More information & detail here
24:34 Outro
Learn how to multiply your wealth with this one strategy.
Click To Tweet