Podcast: Play in new window | Download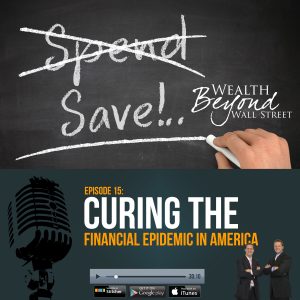 There's a financial epidemic happening right now in America – as a matter of fact, statistics say that the average american (over 60%) doesn't have enough savings to cover a five hundred dollar emergency. The core of the problem is an entitlement mentality – a mentality that leaves people to believe that the world owes them a living and to refuse to take control of their own destinies and their own finances. Join us today on the Wealth Beyond Wall Street Podcast to find out how you can learn to manage money, change your ways, and avoid your own personal financial epidemic.
Tune in to Wealth Beyond Wall Street every week to learn more about creating passive wealth, enjoying your work, and finding financial freedom. Also, don't be scared to tap into Brett and Ethan's wealth of financial experience and send them your questions here.
Show Notes:
0:00 Intro
0:37 The Epidemic Facing America
2:05 What is the Core of the Problem: An Entitlement Mentality
11:30 The Problem With the Way People Manage Their Money
15:54 How Can You Change?
17:33 The Importance of Tracking Your Money
23:27 Understanding Money and Becoming Free From It
27:06 Outro
When the pilgrims showed up, who provided them free healthcare?
Click To Tweet
You can't control anything unless you track it.
Click To Tweet
Click To Tweet