Podcast: Play in new window | Download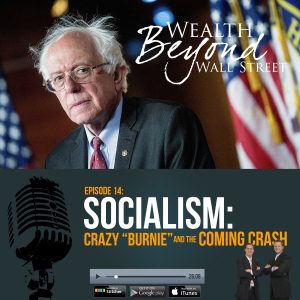 Is socialism the solution to some of today's problems? It seems like millennials and the "Bernie bros" sure think so. Today our hosts Brett Kitchen and Ethan Kap talk about the dangers of communism and socialism and the threats that they pose to our modern, free society. They talk about the hyperinflation that US money may be facing and the possibility of a coming crash. Finally, they talk about someone of the possible solutions, both on a personal and national scale.
Tune in to Wealth Beyond Wall Street every week to learn more about creating passive wealth, enjoying your work, and finding financial freedom. Also, don't be scared to tap into Brett and Ethan's wealth of financial experience and send them your questions here.
Show Notes:
00:00 Intro
01:36 The Current Political Arena
03:58 The Dangers of Socialism and Communism
10:53 The Inevitability of an Upcoming Crash
17:12 Preparing for the Upcoming Crash
18:52 Preparing for the Future
23:27 Why Do People Rob Banks?
26:36 Outro
Bernie represents one of the most dangerous political movements we've ever seen.
Click To Tweet
Socialism is like a car without an engine in it - it may look nice, but it just doesn't work.
Click To Tweet
Make hay while the sun is shining!
Click To Tweet