Podcast: Play in new window | Download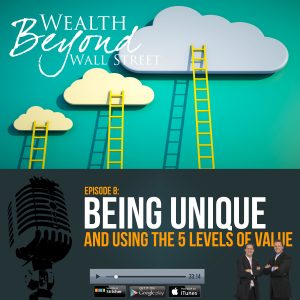 Welcome to the eighth episode of the Wealth Beyond Wall Street Podcast! Today our hosts, Brett Kitchen and Ethan Kap, talk about how to create a niche where you can effectively sell your product and not be pushed out of the market by someone doing the exact same thing of you. They discuss the importance of being unique and the 5 levels of value for your product.
Tune in to Wealth Beyond Wall Street every week to learn more about creating passive wealth, enjoying your work, and finding financial freedom. Also, don't be scared to tap into Brett and Ethan's wealth of financial experience and send them your questions here.
Show Notes:
00:00 Intro
01:00 Creating a Different Ladder in Branding
04:55 A Unique Selling Proposition
07:46 Finding Your Marketing Niche in an Advertisement Filled World
09:13 Direct Marketing How Tos
11:32 Positioning to Sell Products
12:37 Make Yourself a Unique Commodity
13:44 Creating Convenience
16:15 Creating a Unique Experience
20:37 What Are You Doing to Help Change People's Lives?
22:09 Surrounding Yourself With The Right People
33:30 Outro
If you're going to be the same pizza shop like everybody else, you're probably not going to…
Click To Tweet
Niching and microniching is one of the best ways to get into the industry and get people to buy…
Click To Tweet
Why would someone buy from you, above any other options, regardless of price?
Click To Tweet