Podcast: Play in new window | Download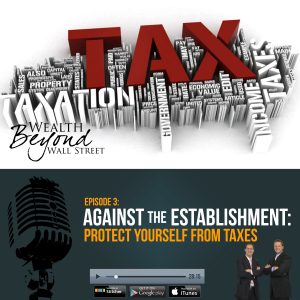 Did you know that the highest tax rate ever levied in the United States was 94%? Do you believe that tax deferred accounts are the best place for your money? Do you trust that by the time you retire taxes will go down? Yes? No? Sit down with co-hosts Ethan Kap and Brett Kitchen today as they talk about the importance of protecting your money from taxes, that the strategies that the wealthy employ to avoid them.
Tune in to Wealth Beyond Wall Street every week to learn more about creating passive wealth, enjoying your work, and finding financial freedom. Also, don't be scared to tap into Brett and Ethan's wealth of financial experience and send them your questions here.
Show Notes:
00:00 Intro
00:54 How Wall Street is Taking Advantage of the Public
05:19 The Difference Between Public and Private With Your Money
11:44 The Importance of Investing in Yourself
14:59 The Math of Taxes
21:09 Understanding the History of Taxes
24:42 Hitting a Lower Tax Bracket on Retirement
28:29 Outro
Privatizing your wealth is a critical principle for building your wealth.
Click To Tweet