Podcast: Play in new window | Download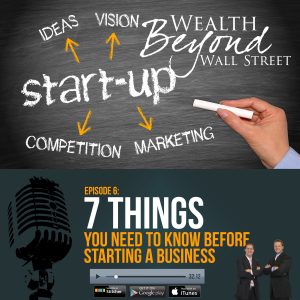 What do you need to know before starting a business? Find out today on the six episode of the Wealth Beyond Wall Street podcast as our hosts Brett Kitchen and Ethan Kap explain the seven things you need to know before starting a business. They talk about choosing a business model, a product or service, and when you should quit your day job! If you are looking to start a business and become an entrepreneur to multiply your wealth, this episode is for you!
Tune in to Wealth Beyond Wall Street every week to learn more about creating passive wealth, enjoying your work, and finding financial freedom. Also, don't be scared to tap into Brett and Ethan's wealth of financial experience and send them your questions here.

Show Notes:
00:00 Intro
00:56 Our Business Strategy Formula
01:38 Lifestyle Design
06:47 Choosing a Business
12:20 Resources to Starting a Business
15:16 How to Keep the Plate Spinning: The Power of Focus
18:13 Understand Both Your Strengths and Weaknesses: Getting Help
20:06 Picking a Business Model
20:45 Are the Margins High Enough?
23:27 Do You Have an Affinity for the Business?
26:05 Can I Reach This Market Place at a Profitable Level?
28:30 What is the Transaction Size?
30:33 Do They Have a Pain?
32:39 Outro
If you're thinking about starting a business: don't be desperate.
Click To Tweet