Podcast: Play in new window | Download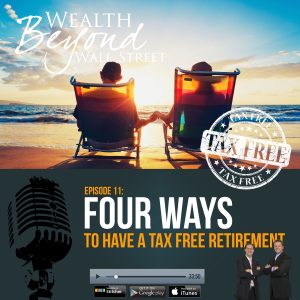 What is going to be the number one expense throughout your life? For most people, it will be taxes. Today on the Wealth Beyond Wall Street Podcast, Brett Kitchen and Ethan Kap sit down to educate their listeners about the importance of having a tax strategy that keeps their money safe and tax free. They talk about the bad math behind 401(k)s and IRA's, as well as the alternatives to these vehicles that allow you to still earn interest in your money while protecting yourself from the long arm of the government.
Tune in to Wealth Beyond Wall Street every week to learn more about creating passive wealth, enjoying your work, and finding financial freedom. Also, don't be scared to tap into Brett and Ethan's wealth of financial experience and send them your questions here.

Show Notes:
00:00 Intro
01:06 What Does Tax Free Mean?
04:35 How Important is Finding Tax Free Ways to Make Money?
09:16 The Bad Math Behind 401(k)s and IRA's
22:21 What You Should Do
31:22 How This Can Affect Your Life
33:34 Outro  
The best thing you can do with your money, is to pay your taxes now and not later.
Click To Tweet
You build wealth by keeping your money, not by losing it to other forces.
Click To Tweet
The number one expense in your life, is probably going to be taxes
Click To Tweet