Podcast: Play in new window | Download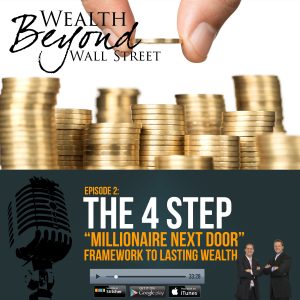 Welcome to the second episode of the Wealth Beyond Wall Street Podcast! Today, our hosts, Brett Kitchen and Ethan Kap, talk about the Four Steps of Wealth Beyond Wall Street. They talk about first getting your house in order, so you can clearly so where you are, where you want to be, and so you can adjust your spending and saving habits accordingly. Then they talk about the critical importance of investing in yourself, and using your time and recourses to make yourself your most valuable asset. Next, the talk about amplifying your wealth by storing it in safe locations, buying appropriate assets, and letting your wealth grow for you. Finally, they talk about multiply your wealth, and increasing the overall net profit in our lives.
Tune in to Wealth Beyond Wall Street every week to learn more about creating passive wealth, enjoying your work, and finding financial freedom. Also, don't be scared to tap into Brett and Ethan's wealth of financial experience and send them your questions here.
Show Notes:
00:00 Intro
02:15 The Four Steps of Wealth Beyond Wall Street:
Get Your House In Order
Invest in Yourself
Amplify Your Wealth
Multiply Your Wealth
04:33 Example of Investing in Yourself
05:30 Step 1: Get Your House in Order
10:59 Step 2: Investing in Yourself
21:52 Step 3: Amplify Your Wealth
28:24 Step 4: Multiply Your Wealth
33:50 Outro
What is the purpose of life? To decide.
Click To Tweet
It's not about how much you earn, it's about how must you keep.
Click To Tweet